The Sales and Distribution covers a wide range of activities related to sales and distribution in a typical organization. The activities include sales support, inquiry and quotation, free of charge delivery, free of charge subs. Delivery, orders, returns, contracts, schedule agreements, delivery, shipments, invoicing, debit memos, credit memos and finally pushing it to accounting.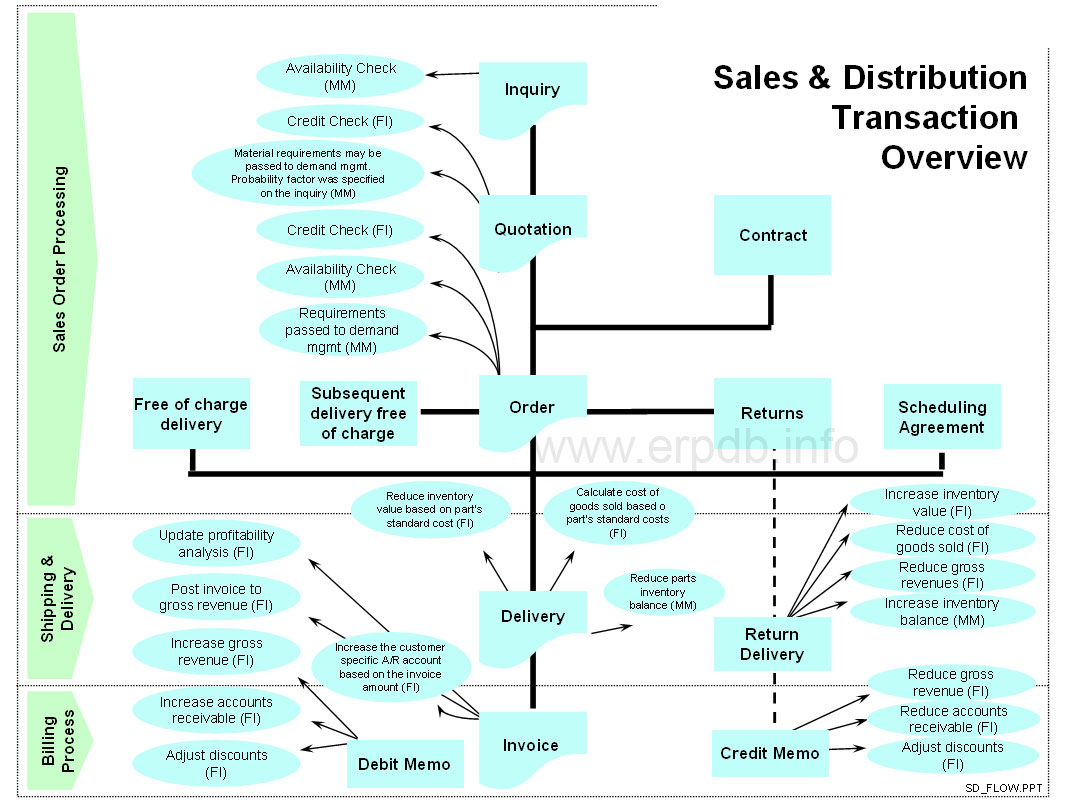 Here is the sales and distribution transaction process flow file in a much bigger format in PDF, click here to download this PDF document for reference.
Overview of sales and distribution in SAP
Every associated activity is stored within a sales document. Each business process in sales and distribution represents different document types in SAP like sales, shipping, billing and some other custom document types adjusted according to organization needs.
A sales document type contains inquiries, quotations, standard orders. Delivery document type contains outbound delivery returns delivery whereas billing document type contains invoices, credit memos, debit memos. Every document can be always identified with a specific document number and it's easy to search for all the sales and distribution document in SAP.
Every document is assigned an overall status which shows the processing status and the various stages the document is currently in (using document flows). Every business process in SAP can be identified by a unique document number. For instance, sales document is created during sales order process. The sales document would contain Header and line items and each line item can have multiple schedule lines. The documents item contains data about the goods and service orders placed by the customers. These include material number, descriptions, prices, and terms of delivery and payment.
How to Define a Sales Organisation?
The sales organization is an organizational unit in Logistics that groups the enterprise according to the requirements of sales and distribution. A sales organization is responsible for distributing goods and  services. Therefore it is also liable for the sold products and responsible for a customer's rights of recourse. A sales organization is uniquely assigned to a company code. More than one sales organization can be assigned to a company code. In Sales and Distribution module, you need at least one sales organization.
IMG -> Enterprise Structure -> Definition -> Sales and Distribution -> Define, copy, delete, check sales organization
How to Define a Distribution Channel?
A distribution channel is a mean through which salable materials or services reach the customer. Distribution
channel will be assigned to a sales organization.
IMG -> Enterprise Structure -> Definition -> Sales and Distribution -> Define, copy, delete, check distribution channel
How to Define a Division?
A division is used to group materials and services. Division will be assigned to a sales organization.
IMG -> Enterprise Structure -> Definition -> Logistic General -> Define, copy, delete, check division
Sales and Distribution terms used in processing
Eventhough, all the sales and distribution terms are mentioned with reference to SAP, these terms would still be common for a generic ERP Implementation too.

Bill-to Party : Person or company that receives the invoice for a delivery or service. The bill-to party is not necessarily the payer who settles the bill.

Condition: Data element used to define prices, taxes and output according to the criteria selected by the user.

Condition Record: Data record that stores a condition, possibly with condition supplements. Conditions that can be entered in a condition record include: Prices, Discounts/surcharges & Taxes

Consignment Order: Material sent to a customer for evaluation or beta reasons is transacted on a consignment sales order.

Contact Person: Person at the customer location who deals with the sales or marketing department at the vendor location.

Creating with Reference:  When a document or data is copied to provide the basis for another document or data. In simple terms, it is a copy.

Delivery Due List:  SAP presents sales orders, consignment orders, spares orders and internal orders to manufacturing through the delivery due list.

Delivery Note:  The document that accompanies a shipment to the customer. It prints automatically on Goods Issue.

Delivery Scheduling:  Determination, based on the goods issue date, of all dates relevant for shipping. The system determines when the company must start the picking and packing activities to ensure that the requested loading date is met.

Distribution Channel:  A distribution channel specifies how a company drums up business and which organizations are involved in distribution activities.

Division:  Organizational unit set up to supervise the distribution and monitor the profitability of a particular sales material. Customer-specific arrangements, such as partial deliveries, prices or terms of payment, can be defined for each division.

Document Date:  The issue date of the original document.

Document Flow:  Representation in the system of all the documents for one particular business transaction. A document flow could, for example, consist of a quotation, a sales order, a delivery, and an invoice. This provides a complete view of flow in the sales and distribution chain.

Goods Issue:  When goods issue is posted on a shipment, inventory is removed from stock and dollars are transferred to cost of goods sold.

Higher-level Dependency:  Highest level "parent" item in bill of material structures. When assigning a higher-level item to a lower-level item, you are indicating the number of the higher-level item to which that lower-level item belongs in a hierarchy.

Lower-level Dependency:  Lower level "child" item in bill of material structures. Each lower-level item is dependent on a higher-level item, to which it is assigned in a hierarchy.

Non-stock Item:  A non-stock item is a material that  never holds in stock. This type of item is usually procured for a customer based on a sales order. This should not be confused with low priced free stock items, which SAP refers to as consumables or expense items.

Order Type:  Document types allow the system to process different kinds of business transactions, such as standard orders and credit memo requests, in different ways. (see Sales and Distribution Document Type)

Payer:  Person or company that settles the bill for a delivery of goods or for services rendered. The payer is not necessarily the bill-to party.

Pricing Procedure:  Defines the conditions permitted for a particular document and the sequence in which the system takes these conditions into account during pricing. A standard pricing procedure is defined in the standard version of the SAP system. It contains the conditions most commonly used. These include material prices as well as various discounts and surcharges (freight, tax).

Production Order:  A production order is the vehicle to convert lower-level parts on a BOM into a stocked upper-level part. A production order is built using routing and work center configuration.

Reserved Stock:  When a production order is released, lower-level stock is soft allocated to reserved stock. Reversed quantity will increase, but unrestricted will not decrease. Material issued to the production order from a reservation decreases reserved stock and unrestricted together.

Revenue Account Determination:  Establishes the revenue accounts to which prices, discounts and surcharges are to be posted. The system uses conditions to determine the appropriate accounts.

Route:  Shipping priority, for sales order; e.g., same day, overnight, two-day, three-day, four-day, or five-day delivery service.

Sales and Distribution Document:  SAP document that represents a business transaction. The following documents exist for sales and distribution: sales documents, shipping documents &  billing documents. A sales and distribution document consists of a header and any number of items:  The header contains data that applies to the whole document (terms of payment, shipping address, texts, etc.).  The items contain information concerning the goods or services the customer wants to purchase.

Sales Area:  The sales area is determined by the sales organization, distribution channel, and division.

Sales and Distribution Document Types:  SAP document that represents a business transaction in the sales department. The following sales document types exist: quotation, sales order, complaints (returns, credit memo request) and debit memo request. Further processing in sales and distribution, such as creating shipping and billing documents, is carried out on the basis of the sales documents. A sales document consists of header data that is valid for the whole document and of any number of items that contain information about the goods or services the customer wants to purchase.

Sales Office:  The sales office represents the region within  sales organizational structure; e.g., East, West, Central, Canada, and Government.

Sales Organization: The sales organization represents the sales hierarchy within sales organizational structure; e.g., North America/Canada and APLA.

Ship-to Party: Person or company that receives the goods. The ship-to party is not necessarily the sold-to party, the bill-to party or the payer.

Shipping Conditions: General strategy for shipping goods to a customer. For example, if the shipping conditions state that the goods must arrive at the customer location as soon as possible, the system automatically suggests the shipping point and route that can deliver the goods the fastest.

Shipping Point: Area of manufacturing from which orders are delivered.

Sold-to Party:  Person or company that places an order for goods or services. The sold-to party can also perform the functions of the payer, bill-to party or ship-to party.

Text Type: Classification for the various texts the user can define in master records or documents. Text types include: sales texts, shipping texts and  internal notes.

Unrestricted Stock:  Stock that may be used to satisfy sales orders or production requirements.

All these above terms will be put to use in any of the sales and distribution transactions in SAP an in the user guides on SAP SD.

Comments